Bay De Noc Charters – Book your charter today!
Little Bay de Noc is best known for its trophy Walleye fishing in the fall – mid October through mid November. Average size of walleye is 8-12 lbs. with the best catch being mainly at night. It also provides excellent fishing opportunity in the spring. Opening day for Walleye is May 15th. Little Bay de Noc fishing is done in both shallow and deep water reefs and points. When this fishing slows (Dog Days of Summer), other spots tend to pick up in the lower Little Bay de Noc and outer Bay of Green Bay. There's Black bottom , Ford and Cedar Rivers, Minneapolis Shoals, and Round Island to name a few. Big Bay de Noc also offers excellent opportunity for monster Walleye both spring and fall when fishing Big Bay de Noc , Ogontz Bay, Garden Bay and other "hot" spots. My technique for catching trophy walleye on Big and Little Bay de Noc and Bay of Green Bay is trolling the open waters. I use planer boards, crank baits, custom-made spinner rigs, bottom bouncers and in-line or snap-weights to reach Walleye at different depths. So come along and book your charter today with Delta Dawn Charters. Together we'll fish the world famous water of Big and Little Bay de Noc, and Bay of Green Bay, located in the central Upper Peninsula of Michigan, for walleye." We go where the fish go!"
Need some help deciding when to schedule your fishing trip with Delta Dawn Fishing Charters? Below is information about the 4 main species we target here on Little Bay de Noc and Big Bay de Noc. We look forward to you joining us the water!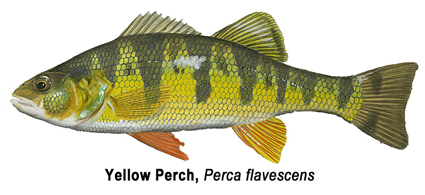 Perch have always been a highly sought after fish in the Bays de Noc area. Historically, both Big and Little Bay de Noc were famous for their spring perch runs, which occur shortly after ice-out. It is not just a spring bite either, some of the best perch fishing the past few years has been in the fall from September through November. During the summer months, perch are typically associated with deep water, sometimes as deep as 100 feet in the Great Lakes, and are usually caught on the bottom. They are typically associated with rocky or rubble bottoms in deep water, but may be found in and around weed beds in shallower lakes. A typical perch rig for fishing deep water consists of a sinker on the end of the line with a pair of hooks (No. 6 or 8) tied on leaders about a foot apart just above the sinker. All manner of live bait – minnows, wigglers, earthworms, leeches, wax worms or small crayfish – will produce. Perch typically bite all day long, though not at night, and are delicate biters, so watching the rod tip is in order. Typically not targeted by anglers with artificial lures, they are often taken incidentally on small spinners, jigs or plugs intended for other targets.
Did you know: Yellow perch are a popular sport fish, prized by both recreational anglers and commercial fishermen for their delicious, mild flavor.
May 15th has always marked the opening day of pike and walleye season in Michigan's Upper Peninsula, but now many anglers look forward to this day for another reason. This day is also opening day of the U.P. catch and release bass season. Once thought of as a southern fish, the bass is moving up the ladder of sought after fish in the Bays de Noc area. The highly successful B.A.S.S. Federation Northern Divisional Tournament that was held here in 2010 has focused national attention on the incredible bass fishery we have.
Both the small mouth and the large mouth bass – the black bass of the sunfish family – are top game fish with lots of fight and fine-tasting flesh.
Small mouth bass reside in inland lakes, rivers and Great Lakes bays where waters are cool and clear, and the bottom is rock or gravel. Ideal small mouth habitat contains protective cover such as shoal rocks, talus slopes, and submerged logs. Their preferred water temperature is 68-70 degrees Fahrenheit, cooler than that of the large mouth bass.
Spawning activity begins in the spring when water temperatures reach 60 degrees Fahrenheit or more.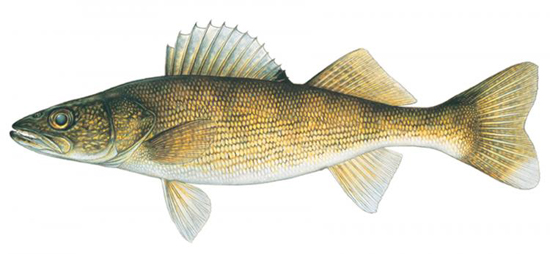 The fish that made the Bays de Nocs famous. Once over harvested, almost to the brink of extinction, the Bay de Noc walleye population was brought back to record levels in the 1990's and early 2000's. Through intensive stocking efforts by the Michigan D.N.R., in cooperation with groups such as the Bay de Noc Great Lakes Sports fishermen, and the hard work of individuals. Mother Nature provided an excellent walleye hatch in 2007, and these fish are providing a fantastic fishery in Little Bay de Noc right now. With overwhelming support, the slot limit has also returned to Little Bay de Noc, allowing only one fish over 23 inches in an anglers 5 fish daily creel limit. The walleye fishing is good now from the May 15th opener and all summer long until it ices up in December.

Tackle-busting, toothy, slimy, ferocious, powerful; these are all words used to describe one of the most fun fish to catch in the Bays…the northern pike!  Not many anglers actually target pike, and that's one reason there's a healthy population of  pike in the bays. One of the nice things about fishing the Bays is that there are so many ways to catch fish.  If you just want to anchor and toss out bobbers and suckers…you can do that too.  Summertime sees mostly smaller fish dominating the catch, but as the water cools in early fall, big fish return to the shallower weeds and drop-offs providing some great pike fishing.
Did you know? Pike consume large numbers of smaller fish – about 90 percent of their diet – but seem willing to supplement their diet with any living creature their huge jaws can surround, including frogs, crayfish, waterfowl, rodents and other small mammals. Their preferred forage fish are Yellow Perch, sunfishes, minnows and suckers.
Pike in the Great Lakes region spawn in the shallows in April or May, right after the ice leaves, and before Muskies reproduce. As a result of their eating habits, young pike grow rapidly in both length and weight.