Fishing Michigan Big and Little Bay De Noc near Gladstone
Come on a fishing charter adventure with Capt. Bill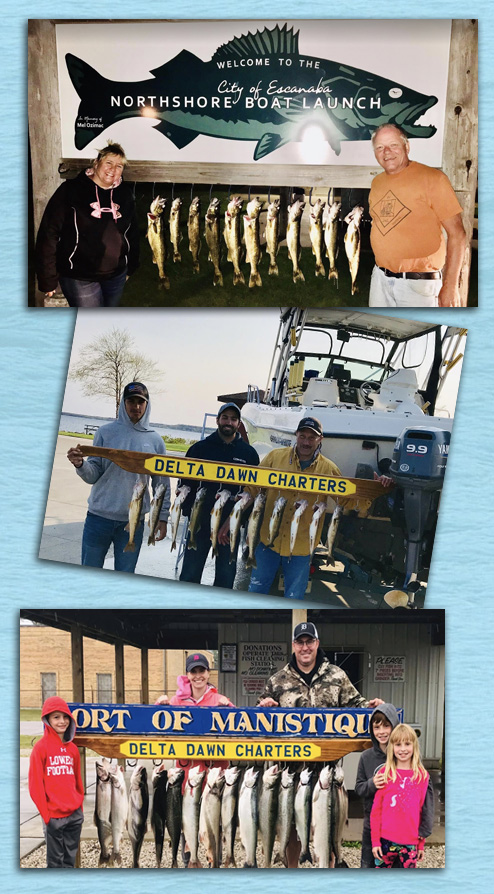 LITTLE BAY DE NOC, BIG BAY NOC. AND THE BAY OF GREEN BAY FISHING
Escanaba, Michigan, fishing the waters of Little Bay de Noc, the Bay of Green Bay and Gladstone MI.
Little Bay De Noc is known for the great Walleye fishing it has to offer. The beginning of the season is a great time to fish as the fish are more congregated in the Bay due to the post-spawn period. The fish are hungry and can provide some fantastic fishing. Once the fall fishing period starts there is a better chance of catching a Walleye of a lifetime. 
BIG BAY DE NOC FISHING
Big Bay De Noc FISHING can provide great walleye fishing. Big Bay is known for the size of the fish that are caught. Spring fishing can be hot at times and continue throughout the summer. It is not uncommon to catch Walleye up to 30″ while fishing in Big Bay De Noc.
BAY of GREEN BAY
The Bay of Green Bay offers great fishing from August through October. Fishing the reef south such as deer creek, around Island. If they aren't on those reefs you move to the Minneapolis shoal area where you will find numerous reefs such as Big and little Disco, Corona, and 11 foot! (If you don't find them there sell your Boat!)
Port Of Manistique Michigan
There are times when one Port offers better fishing than the other and I want to take you to where the fishing is at its best to give the best fishing experience possible. Manistgue offers great King Salmon fishing also an abundant population of Steelhead. And "Now" Lake Trout, Brown trout can also be caught while fishing in Manistique. There are also other attractions in the area available to see if you can't go fishing because of inclement weather or once you are done fishing. There are State Parks that include Big Springs State Park and Fayette State Park. And there is a new campgrounds which are located on the west side of the river overlooking beautiful Lake Michigan and just a minute or two from Manistique city launch.
Lake Michigan KING SALMON FISHING
Escanaba Michigan Trips
We will be leaving out of the Aronson Island boat launch located in Escanaba's Ludington Park. While fishing out of Escanaba there is a chance to catch a Brown trout, Steelhead but the King Salmon which are the most abundant. You can drop lines right out of the Marina and trolls south or we can run to multiple Islands such as Saint Martin, Rock Island, poverty, which provides excellent King Salmon, Brown Trout, Lake Trout, and steelhead. All within the Beautiful settings Provided by the Islands! ( It's worth the ride to get there)