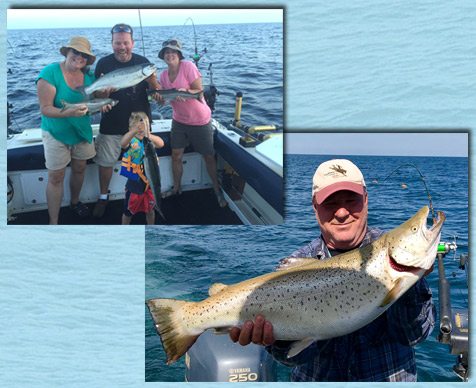 1 – 4 people $750.00 – 8hrs or less
$50 extra per person over 4 (5 people Max)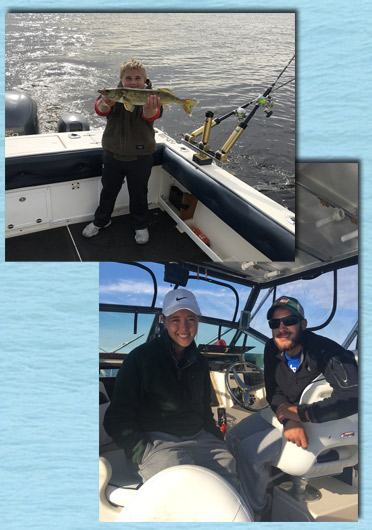 1 – 2 person $500.00- 5hrs
1 – 2 person $600.00- 8hrs
$50.00 extra per person (5 people Max)
Our Policies:
Our policy on inclement weather is simple. Safety is our number one concern. We will fish in the rain in fact some of our best catches have been in the rain. There is a covered area for you to get out of the sun, rain and wind. When in the captain's opinion a safety concern presents itself before the trip, (The Captain has the authority to Cancel due to weather at his discretion.)After the charter has left the dock at the captain's discretion for weather or safety a trip may be cancelled. In this scenario the money paid will be refunded based on the amount of time and expenses expired on the charter. No refund will be given for trips cancelled for excessive use of alcohol or any use of drugs.
Fishing charter groups

 of all ages are welcome to come!
Charter fish Big and Little Bays de Noc , Bay of Green Bay, and Lake Michigan  for salmon, trout, and walleye, The time you spend charter fishing with your family, friends, and co-workers could prove to be some of the most rewarding moments you can share. My promise to you is that you will indeed have a pleasurable day of charter fishing with Delta Dawn Charters. The "catch" will be an added bonus!!  I go where the fish are
Morning, afternoon or evening fishing charters are available for (Manistique , Gladstone , and Escanaba, Mi. in Delta and Schoolcraft counties) 7 days a week. Fishing charter (times are flexible)
For information pertaining to fish charters, please contact Bill Myers, your charter fishing captain at 1-906-396-4001